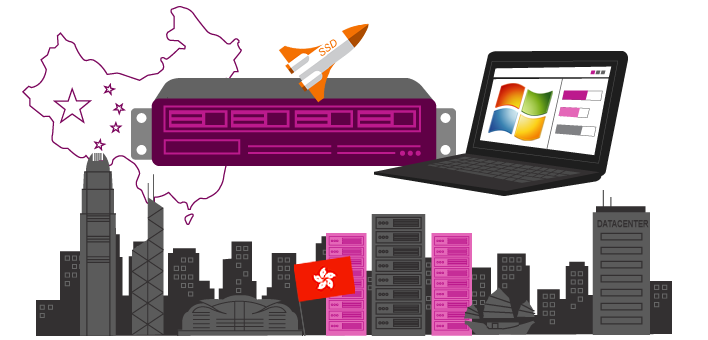 Windows Virtualizations @ Hong Kong with Standard China Route VPS
Price from $6.9 / Month, 100Mbps Speed
Cloudlet W – A Windows Based VPS System
Our newly Launch Windows Plan, it based on Windows 2008, 2012 and even the latest Windows 2016
CLOUDLET HK W1
Windows VPS Plan
Intel Xeon E5 Processor

1 Core Processor

512M Memory

Allow Upgrade Max 1G Memory

20G SSD Disk

300G Transfer

Network Port : 100Mbps

Standard Global with Best Effort China Bandwidth

OS : Windows 2008 R2 Only

Monthly Price : $6.9

Yearly Price : $80
CLOUDLET HK W2
Windows VPS Plan
Intel Xeon E5 Processor

1 Core Processor

1024M Memory

Allow Upgrade Max 2G Memory

40G SSD Disk

500G Transfer

Network Port : 100Mbps

Standard Global with Best Effort China Bandwidth

OS : Windows 2008 R2 , 2012 R2, 2016

Monthly Price : $9.9

Yearly Price : $110
CLOUDLET HK W3
Windows VPS Plan
Intel Xeon E5 Processor

2 Core Processor

2048M Memory

Allow Upgrade Max 4G Memory

50G SSD Disk

1000G Transfer

Network Port : 100Mbps

Standard Global with Best Effort China Bandwidth

OS : Windows 2008 R2,  2012 R2, 2016

Monthly Price : $ 16.9

Yearly Price : $200
Cloudlet W – High Performance Windows VPS
High performance Windows VPS for those require higher performance in Windows
Intel Xeon E5 Processor

4 Core Processor

4G Memory

60G SSD Disk

1000G Transfer

Network Port : 100Mbps

Standard Global with Best Effort China Bandwidth

OS : Windows 2008 R2, 2012 R2, 2016

Monthly Price : $26

Yearly Price : $300
Intel Xeon E5 Processor

4 Core Processor

4G Memory

60G SSD Disk

2000G Transfer

Network Port : 100Mbps

Standard Global with Best Effort China Bandwidth

OS : Windows 2008 R2, 2012 R2, 2016

Monthly Price : $36

Yearly Price : $400
Intel Xeon E5 Processor

8 Core Processor

8G Memory

120G SSD Disk

3000G Transfer

Network Port : 100Mbps

Standard Global with Best Effort China Bandwidth

OS : Windows 2008 R2, 2012 R2, 2016

Monthly Price : $56

Yearly Price : $500

Windows Virtualization
Windows is a virtualization infrastructure that allow Cloudlet to run Windows. It makes the Cloudlet work similar like physical dedicated server. You can run ASP. .NET and others Windows Technologies over here.
Pure SSD Drive
The Cloudlets are provisioned in Pure SSDs Drives. Website hosted in SSD server will be more then 5 times more faster then conventional server.

Power by Dual 8Core E5 Processor
Cloudlet are provisioned in latest technology. Dual E5 processor, 8core 16 Thread each are choose to be host server for Windows Cloudlet.
Instant Provisioning
As soon as you make a successful payment via PayPal, your cloud hosting accounts will be activated immediately. No waiting time whatsoever.

Superb Asia Transit
We peer with Major IX and Transit provider in Asia to provide you best and fastest Asia Servers. Currently we peered in HKIX, Equinix IX and MYIX in asia. Also, we manage all our own network instead of leasing infrastructures from others.
Tier 3+ Data Center
Our servers are hosted at minimum Tier3 data center, Enterprise Class, with multiple redundancy and security in mind. Hong Kong and Singapore are chosen, and to be heart of Asia to host your server.









Frequently Asked Questions
Is this a cloud hosting or vps hosting ?
This is VPS Hosting, there is not high availability like Cloud Setup, customer require to do their own data backup. Or purchase our backup plan
What is your refund policy?
By default, we have no refund policy as long as the fault is not from our side.  However you can also discuss your issue with our Billing Department, and we ready to assist you.
Can I request spefic ISO or OS to be install ?
We do not support custom O/S installation. All installation can be get from our template repository .
Can I change from my package from contry to other?
Yes, you can.  You can do at the ClientArea. or  you can submit a ticket to do so, and our support team will do for you. However please remind that all your data will lost by using this request.
Can I use Proxy or VPN ?
Yes, you can. You can install VPN or proxy in your vps or cloud. However, this is limited to Personal Use only, not public sharable or share between multiple party.

Get started with GigsGigsCloud today